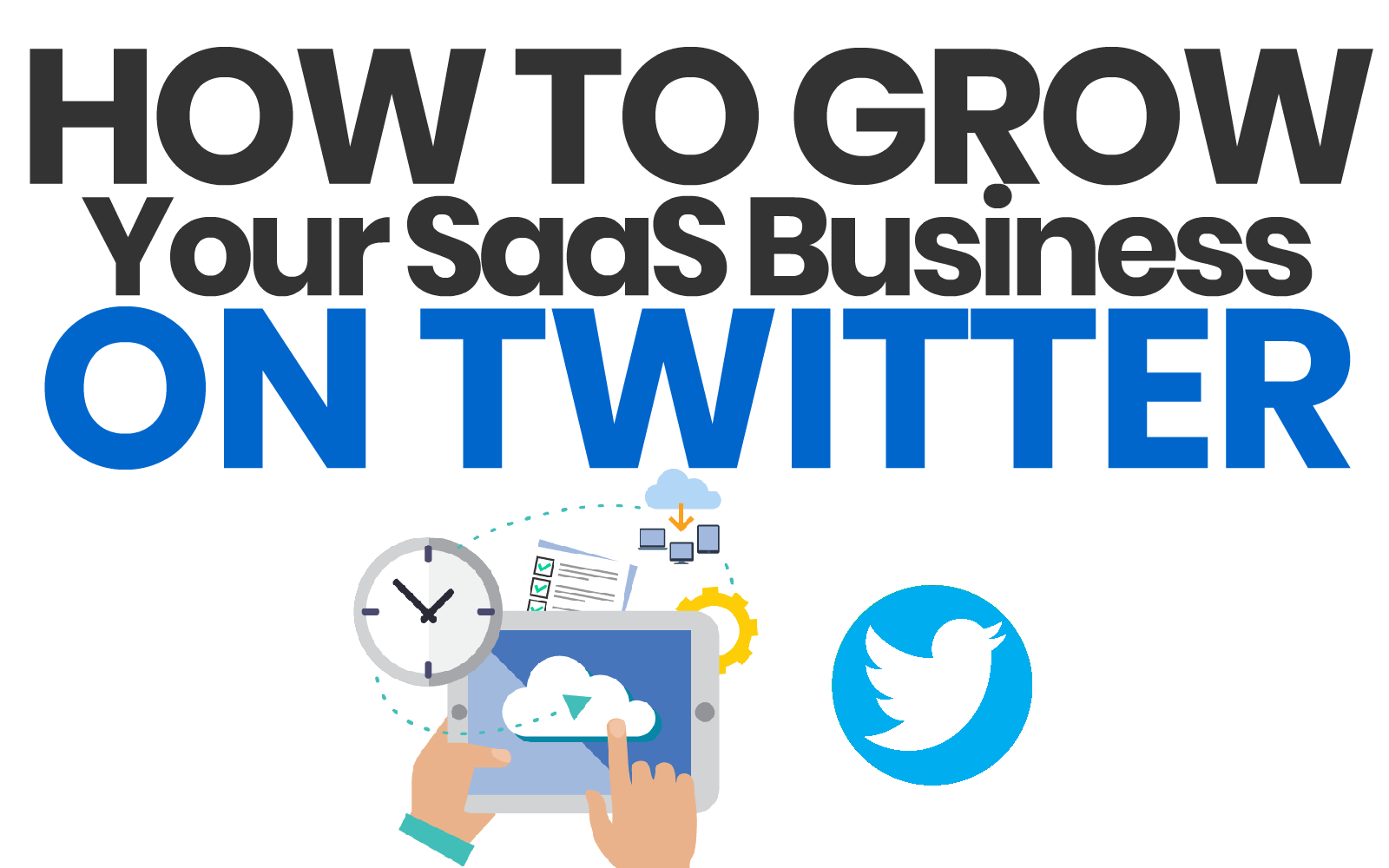 4 Powerful Ways to Grow and Market Your SaaS Business Using Twitter (Examples Given)
8 min read jay@zlappo.com Back to Blog
---

Here at Zlappo, we believe that Twitter has tremendous power in not only building an organic audience for your SaaS brand but also, quite underratedly, to get you consistent sales and nurture a loyal tribe who will voluntarily wax lyrical and sing praises about your product to the Twitterverse.
It was indeed the core reason we decided to build Zlappo in the first place -- to assist startups, small businesses, consultancies, agencies, organizations, marketers, bloggers, etc. to rapidly build a Twitter audience and monetize said audience effectively.
We believe that Twitter is very underused by SaaS startups to acquire customers, mostly due to a lack of familiarity with the platform, or, more specifically, a lack of familiarity on how to use the platform for SaaS marketing/sales.
At Zlappo, we're up to speed with the state-of-the-art growth hacks and best practices on Twitter, so without further ado let's dive into the 4 most powerful ways to use Twitter to grow your SaaS brand:
1. Twitter DMs
For some reason, Twitter DMs aren't considered a legitimate or popular sales/marketing tactic in much of the SaaS world -- why?
It's incredibly targeted, and, while the vast majority of people won't respond or even see it, enough of them will and respond, assuming you've created something that truly solves a problem they have.
In fact, Twitter DMs are what got Zlappo our first 10 paying customers during our initial launch in March earlier this year.
All I did was make it part of my daily routine to 1) identify 20 users in my target audience and 2) send them a personalized DM (with a personalized promo link), e.g.: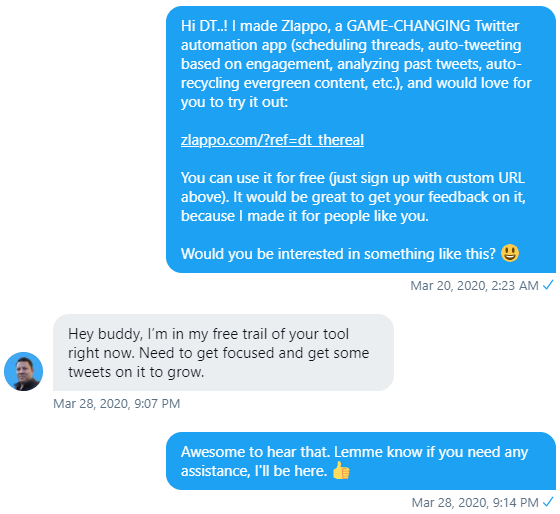 And like this: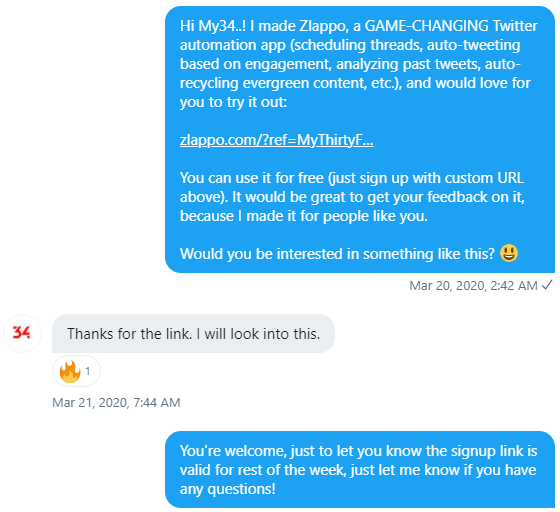 Or like so: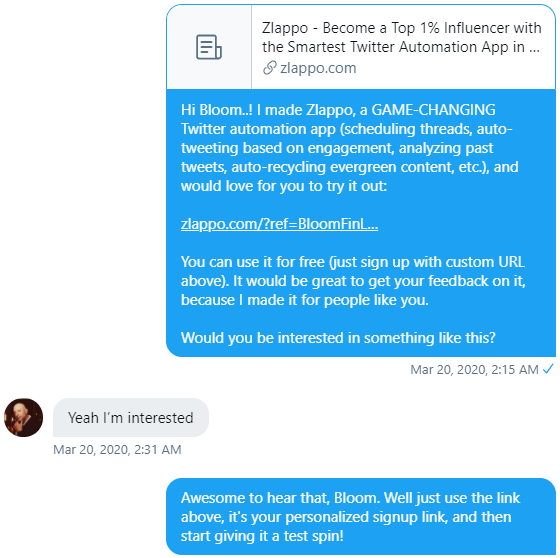 Yes yes, you'll get the odd nasty response or two (some people find it intrusive), but, if you have a fledgling SaaS startup that's just starting to look for its first customers, the fastest way to reach them and get your product in their hands is the most direct method -- going to them instead of expecting them to come to you.
2. Twitter search
This is another extremely-effective way to get targeted traffic to your SaaS landing page.
If your SaaS product solves a problem for which people are constantly searching for solutions, definitely have someone like a VA search for your relevant keyword(s) every day and help them out by recommending your product.
Usually just spamming your product would be spam, but in the correct context it's not only not spam but also immensely helpful to someone who's looking to solve a pain point.
For instance, with Zlappo, I look for "schedule thread" and "schedule threads" each day in the Twitter search bar, since most users who try to schedule a thread on Twitter will be told they can't, and then they get frustrated and tweet about it in exasperation.
Here's an example of how I do it for Zlappo:
Hello Jay. Thanks so much. I'll check it out! 👊🏾

— Tobi (@TobiGbemisola) November 11, 2020
(click on the tweet to see the full interaction)
There are 3 core benefits to doing this:
You help someone out and have an opportunity to convert them into a paying customer in their time of greatest pain. This is why the tweet MUST be recent for this to work -- otherwise, it's simply too stale, and the customer might have already found a solution, is no longer looking for a solution, or, yikes, a competitor has beaten you to the punch and recommended their product instead.
Their followers (and even yours) will also see your entire interaction and possibly visit your landing page and convert into a user/customer.
Most importantly, other users searching for solutions to the same problem will now chance upon your tweet. Notice how I repeat the words "schedule Twitter threads" in my recommendation? It's because I also want my tweet containing my link to also appear in the Twitter search results when people look for a solution to that specific problem.
Brilliant, eh? 😎
3. Tweet source labels
This one is interesting, for sure, and unfortunately it doesn't apply to every SaaS product out there.
Did you know, if you post a tweet via the Twitter API, Twitter identifies the app that's used to post it?
It does that using what's called a "tweet source label," a label placed on the bottom-right of each tweet that shows you from which app the tweet was posted.
So basically if your product posts or shares to Twitter, you've got something golden going on: you have baked-in virality that most other SaaS companies can only dream of.
As more users use your product and post to Twitter, even more people will in turn see an impression of your company name and sign up for your product -- a perfect viral loop.
These are some examples that I've seen SaaS apps use to subtly yet brilliantly market their product:


Oh, we do that too of course, and, if I may say so myself, I think using your URL works a lot better than just your company name, like so:

There are 3 benefits off the top of my head of using a URL instead of just a name:
It shows you're a third-party app that posts to Twitter. Not everyone knows what those labels mean.
People know exactly what to type into the address bar to look for you.
There are third-party sites that crawl for tweets, and the tweet source label gets picked up and the URL gets parsed as a do-follow backlink (seriously).
If you want your SaaS product to grow on its own, a baked-in virality loop of some sort is a must.
Unfortunately, the tweet source label is not clickable, so you can't link directly to your site -- which would be a massive game-changer -- but even the impressions thereof can intrigue a target user, say a competitor of your users, to check out your product.
4. Twitter threads (tweet storms)
Posting threads (tweet storms) consistently is probably the most organic and effective tactic to build an audience loyal to your SaaS brand.
People will always love and freely share content that is free, engaging, relevant, valuable, actionable, and candid, and Twitter threads are the best vehicle to deliver said content.
There are 3 tactics you can use with Twitter threads:
a. Plug your offer at the end of your Twitter thread
Yes, I think you know you need to plug your offer somehow somewhere to direct traffic to your site.
Here are 3 examples of threads scheduled using Zlappo:
We need to start thinking and operating like CEOs and stop playing hobbyist.

We don't need to be the people doing the tasks in our business.

Letting go of control and stepping outside of those roles and

— Ari | Unprofessional Biz Coach + Marketing Genius (@NerdNomadMom) October 18, 2020
17 exploding post-lockdown trends:

— Exploding Topics (@explodingtopics) May 20, 2020
Don't over complicate things. You don't need to be ultra smart or have some special degree to invest

A great way to invest for those who feel they do not have the time to research or understand, ETFs are a GREAT investment

Look at some of the positions these ETFs own

THREAD👇

— Dividend Seeker 📈💰💵 (@Dividend_Dollar) October 27, 2020
The engagement speaks for itself.
Pro-tip: for maximum impact, include your link in the middle of the thread, not at the end, though both works!
Further reading: 5 Ways to Sell on Twitter that Get Retweeted like CRAZY (Examples Included)
b. Retweet your threads regularly
Yes, it's senseless and in fact quite stupid to spend so much time and effort to write an incredibly-valuable thread only to post it once and have it swallowed by the deluge of new tweets on your audience's timelines.
The lifespan of a tweet, after all, is less than 24 hours.
If you want to milk your content to its fullest, you need to regularly retweet it to your audience.
Yes, shameless retweet your own tweets, get on with the program.
However, doing that manually and consistently is a pain in the ass (having to dig through your entire body of tweets), not to mention impossible to remember, which is why we wrote an article on how to automatically recycle your evergreen content.
c. Schedule your threads beforehand
Scheduling your threads is such a game-changer for 4 reasons:
Batching/Productivity -- you can even write a month's content in one sitting when you're in the zone, and then have them drip out over time instead of inundating your followers with burst-posting (yikes).
Autosave --ever typed a 30-tweet thread only to crash or accidentally click the close button and lose everything? Seriously the Twitter interface isn't made for writing anything longer than a sentence or two. In fact, it's pretty bad.
Dramatically-increased quality when you get to make drafts -- you get to read, re-read, and edit or make changes to your threads before they go out.
Best timing -- you post your thread not when you're inspired, but when your audience is looking to get inspired. Big difference.
Quick plug: we have the best Twitter thread scheduler bar none -- with time-intervaled threads, versatile composer, multiple images/GIFs, unlimited thread replies, inspiration features like a famous quote generator, auto-retweet to boost thread after posting, etc. -- so start a 14-day free trial to grow your Twitter today.
Pour conclure
If your idea of marketing on Twitter is to constantly tweet your links with no context, purpose, or without having earned the right to do it (yes, there's a code of etiquette on Twitter), you'll not only fail in building an audience on Twitter but also quickly get alienated en masse -- this I can personally guarantee you.
Twitter marketing requires nuance and finesse, because people don't go on Twitter to be bombarded with marketing messages, with the exception being when it's contextually appropriate.
What other tactics not mention in this article have you used to successfully grow your business on Twitter?
Share below so we can all learn from one another. 👇
About the Author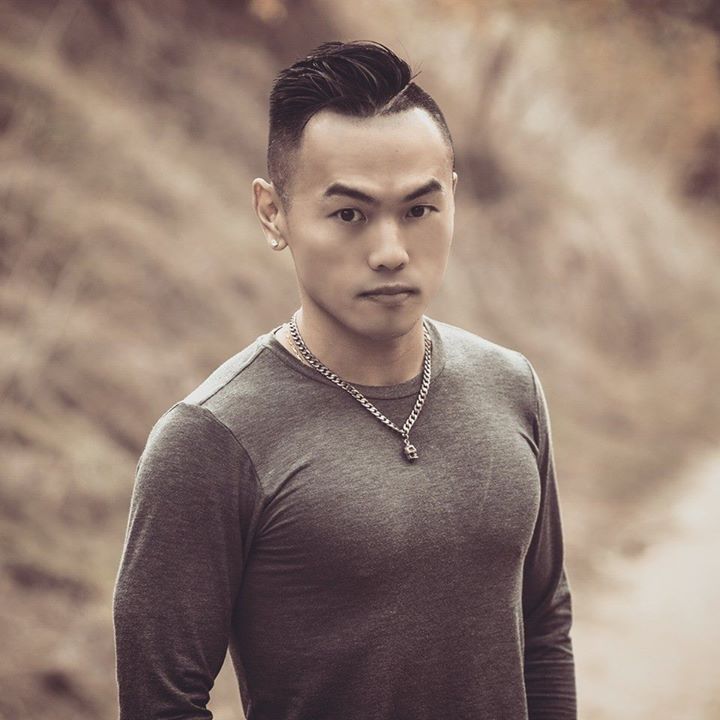 I'm Jay, founder of
Zlappo
, the
smartest
Twitter automation app in the market today to grow your audience rapidly like a Top 1% influencer. I'm a full-stack developer by background, and I love sharing my insights and observations on Twitter growth hacking and startup/business growth hacking in general. Let's learn and grow together! 🚀🚀🚀
Follow @therealjayber
Let's stay in touch, subscribe to my newsletter! 👇👇👇
Exclusive weekly email on: business musings, personal anecdotes, general self-improvement 💪
---