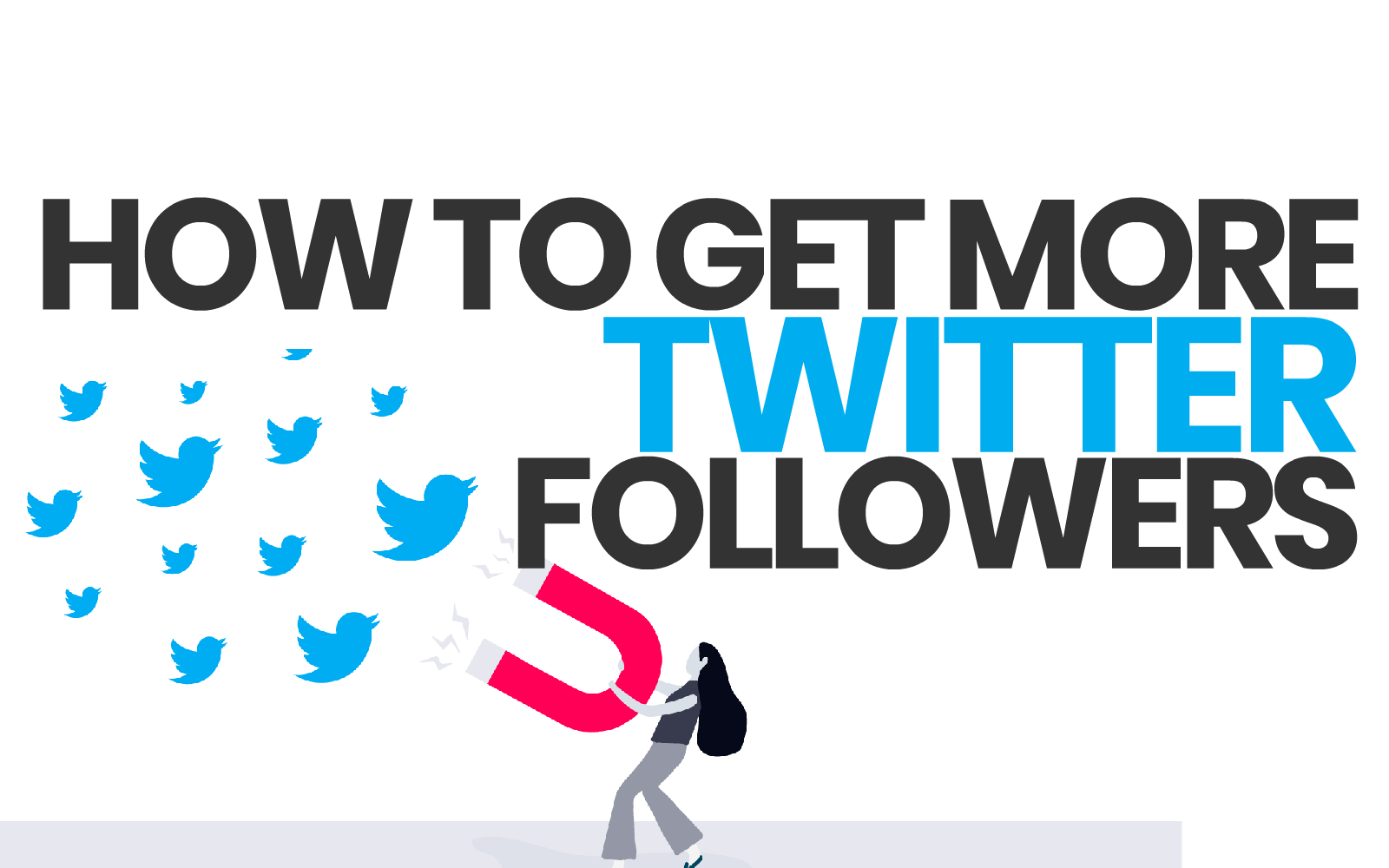 How to Get More Twitter Followers (Ultimate 10-Step Growth Hack for 2021)
10 min read jay@zlappo.com Back to Blog
---

You probably already know that, in 2021 and beyond, building an audience online is paramount if you want to make money online.
Your audience is more than just a random mish-mashed group of potential customers; they're your loyal tribe, people who will not only happily engage with your content and purchase your offers but also promote your offers and gush publicly over them voluntarily to anyone who would listen.
It has become so important and indispensable that I'd go as far as saying your online business will fail without having an audience.
Conversely, an audience has become so valuable that you can immediately make money online with just an audience by itself and nothing more -- no product, no business, no fulfillment, nothing -- through influencer marketing.
If you have an audience, the money will find its way to you. Period. You don't even have to sell at all.
In the 21st century, having an audience is the ultimate asset that produces passive cash flow.
So if you're just starting out on Twitter, and your follower count is still a big fat goose egg, how do you rapidly grow your audience and get more followers?
A. WHAT NOT TO DO 🚫
1. Buy followers/verified accounts
Don't do it. It's a waste of time and money.
Your engagement rate will be near-zero, and it adds zero value. Totally pointless!
And depending on your niche, it will be obvious to many others that your followers (or verified status) are bought, and they'll avoid you like the plague, because nobody likes a deceptive person.
2. Follow-for-follow
Yes, we'll be following people.
But no, we'll not be following people in hopes of having them follow us back.
That worked in 2010 maybe; in 2021, people are way smarter.
Accounts that engage in this type of I-help-you-so-you-help-me "number games" have absolutely zero interest in what you have to say, let alone what you have to sell.
I've seen accounts with upwards 30,000 followers that don't get a single like/retweet on their tweets; it's just embarrassing and overall a bad look.
3. Incentives
Okay, this one is controversial, but, if you're incentivizing people to follow you (i.e. via contests/giveaways), you're likely to find that your average following quality and engagement will go down.
(Exception: if you're just buying followers or running giveaways to provide a base number of followers for credibility and optics, that's fine I suppose, but it should be a one-off thing and definitely not your primary strategy.)
🗝️ Key takeaway

Your follower count is not your audience, and your audience is not your follower count.

It's possible to have a big follower count and still no real audience.

And it's also possible to have a real audience with a low follower count.
B. WHAT TO DO (10-STEP GUIDE) ✔️
So clearly we don't want fake/disinterested followers (because they're worthless), but how do we build a loyal tribe?
1. Identify a niche to which you can add massive value
As stated in my previous guide (How to Make Money on Twitter in 2021 for Beginners), you need to start with niche selection, because Twitter isn't a monolithic platform -- it comprises numerous pockets of communities built around specific niches.
What are your skills, knowledge, and experiences that you think you're top-5% at in the world?
If you want people to follow you, you have to offer something special to get them interested.
As stated in my previous guide, unless you're already an expert at something specific (e.g. coding, animation, filmmaking, cooking, guitar, travel, etc.), I'd say keep it broad and target one of the 3Fs:
Finances (business, investing, personal finance)
Fucking (dating/relationships)
Fitness (health/fashion)
What's your area of expertise?
Note: it needs to be a profitable niche too, like fashion or software. This isn't really the time to do what you love, unfortunately. Don't bother with non-monetizable niches (crocheting?).
2. Optimize your profile, look the part!
If you want to be an influencer, you have to look like an influencer.
From your cover photo to your calls-to-action, your Twitter profile is probably the most important factor to another person in your niche in deciding whether to follow you or not.
You only have one shot at making a great first impression. So make it count.
Convert each visit to your profile into a follow by optimizing it as best as you can.
This includes (just a quick summary):
a. Name and username Use something descriptive, e.g. "Wealth, Fitness, Mindset." Use emojis for eye-catchiness.
b. Profile picture Use your actual face. Faces build trust.
c. Header image Illustrative sophisticated graphic with a positioning tagline. What's your value proposition? Convince and INSPIRE visitors to click Follow.
d. Bio What can you do for me? What benefits do I get for following you? Include those here.
e. URL NEVER leave this blank. Link to your site or offer. Or even a bloody Patreon donation link. ALWAYS. x100. TIP: If/When you go viral, you'd want your Twitter profile to be READY TO COLLECT REVENUE FROM DAY ONE.
f. Location Unless you sell physical services/goods, use this as a call to action to your URL, e.g. "Book a call here ➡" TIP: "Location" is next to "URL" in your Twitter profile; don't waste this real estate telling people you live in Bumfuck Nowhere, KS.
Here are some great examples from Jake (@InfoProductJake) and Quint (@tellquint):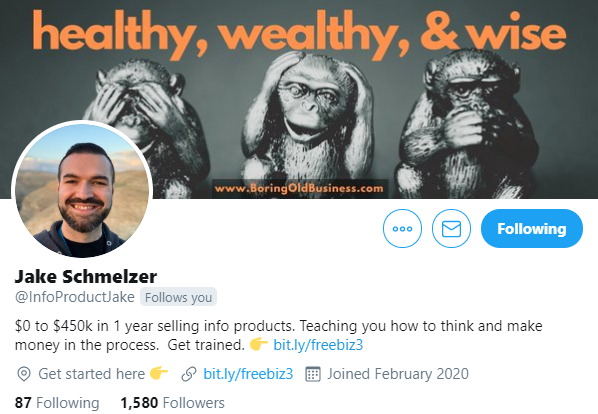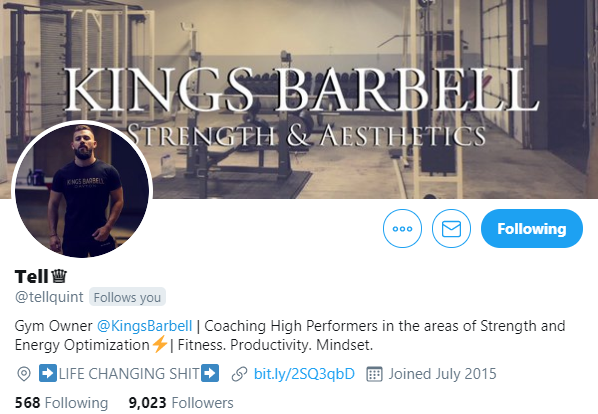 MANDATORY FURTHER READING: The Ultimate Guide to Optimize Your Twitter Profile for More Followers and Conversions (Examples Given)
3. Identify, follow, and add to a list 20-30 large accounts in your niche
If you're starting from scratch, you need all the visibility you can get within your niche, so we'll start by being as visible as possible to people in your niche by following them and commenting regularly on their content.
So your main strategy now is commenting on others' content, not posting your own original content (unless you enjoy talking to a wall).
Click the bell icon on their profiles to be notified of their new tweets, and add these accounts into a Private List called "Snipe."
THIS PRIVATE LIST IS WHERE YOU LIVE NOW.
We're going to leverage their large, active followings to build our own. Classic shameless parasitism!
Ideal characteristics of large accounts to follow

Same niche as you
Low following:follower ratio (respected authority)
Owner is actually actively engaging. (TIP: @realdonaldtrump doesn't qualify, he doesn't reply!)
Owner is trigger-happy with retweets.
Owner is susceptible to flattery/provocation.
Account has high engagement (likes, retweets, replies).
Not too large (too hard to stand out among the noise)
4. Comment regularly on those large accounts
a. Interact genuinely with those large accounts in your private list
When you're small and unknown, you want to be as visible as possible.
The more people see your name, the more people click on your profile.
The more people visit your profile, the more people end up following you.
MORE EYEBALLS = MORE FOLLOWERS
Always be insightful and add value.
TIP: Comment something even more insightful than the original tweet, something that can stand on its own merit as an original tweet. What's the point if you comment something inane that doesn't add to the conversation, e.g. "thanks," "facts?"
b. Always be ready to jump in on the action
See a tweet that's gaining traction? Jump in on the action.
Even if it's a popular tweet by a small account.
Do this 20-40 times per day.
Literally sit on a couch, run through your Private List, and comment away.
c. Either agree & amplify or disagree & provoke
i. AGREE & AMPLIFY
Butter up the account owner, use agreement words, e.g. "great post," "underrated point," etc. followed by your own insightful content.
ii. DISAGREE & PROVOKE
Disagree politely, e.g. "Just to play devil's advocate."
Never disagree confrontationally, e.g. "You're wrong." Comment a contrarian, insightful point that counters the assertion in the original tweet.
TIP: You want to entice and induce the owner to like, reply to, or retweet your comment. THAT'S THE GOAL.
MANDATORY FURTHER READING: 4 Smart Twitter Commenting Strategies to Grow Your Followers (with Examples)
5. Pro-tip: retweet with comment instead of retweet
If something resonates with you, and you want to retweet it, don't.
Quote that tweet instead (retweet with comment).
Chances are, your own followers will also find the tweet resonating just like you did.
The goal is to get people to retweet you, not another person. Also remember, always add value.
What to add in your quote tweet

Be insightful and original, as usual.
Disagree & provoke to get the owner to defend his stand.
Agree & Amplify to entice the owner to retweet you.
Keep it brief, one line at most. Not the place for dissertations.
Quote-tweet and comment the same content with respect to the quoted tweet for maximum effect.
6. Pro-tip: focus on large accounts that engage back, cut off those that don't
a. Butter up large accounts with a history of retweeting others' tweets
Look into the large account's profile timeline.
Are they all exclusively original tweets? Or are retweets mixed in?
Do they interact with their followers? Do they retweet stuff by others?
If yes, work your magic here. Butter them up nicely.
Comment on their tweets as much as you can, retweet them, retweet them with comments, and basically be as friendly as humanely possible.
People like flattery, especially if you're specific about what you found valuable, helpful, or insightful. Or even chime in with a personal anecdote.
b. Double down on large accounts that interact back regularly
Not all large accounts are created equal.
Some owners regularly like, retweet, and reply to the comments you leave.
Best-case scenario is when they retweet your comment/quote your tweet.
That's where the REAL GROWTH is.
So focus on those who engage you back.
Hell, even if it's just liking your comment, it still shows up on their followers' timelines!
c. Cut off large accounts that don't interact back or have low engagement
Cut off large accounts from which you're not seeing much traction.
Maybe they have fake followers, maybe their followers aren't the active engaging type.
Either way, you'll know, since you tend to get a deluge of follows after a retweet of your quoted tweet/reply, or a reply to your quoted tweet.
Don't get that? Cut them out of your Private List and replace with another.
TIP: There's no shame in piggybacking off another account when you're trying to grow initially, as long as you interact genuinely and consistently add value. You'll be noticed eventually.
7. Pro-tip: comment on uncrowded tweets
If you want to get noticed by senpai, you need to appear as visible as possible.
Your original content is wasted if you post on a tweet that's too crowded already.
Conversely, target tweets that are relatively quiet.
The owner will appreciate you engaging with a tweet that hasn't seen a lot of traction.
Which tweets to interact with

Something that hasn't seen much engagement.
Something that is relatively uncrowded in the replies.
Something that seems to have taken effort to write, e.g. a long thread, a reflective post, a technical how-to guide
8. Pro-tip: retweet large accounts' offers
Offers tend to get relatively fewer engagements than actual meaty original content.
Take the opportunity to stand out and make your mark.
Everyone is flattered when the thing they worked hard on, whether it's an ebook, a video course, a site, an app, an iTunes song, a Wordpress theme, etc., is given due recognition.
The costs for you are low, but the ROI can be high for you to retweet their offers.
So be generous here. You don't have to have tried/purchased their offer to offer a kind word or two.
9. Pro-tip: retweet your comment if it sees traction
If 2 or 3 people like your comment, this is a no-brainer.
Retweet it (or auto-retweet it in the background using Zlappo).
It amplifies your comments to your own followers who might miss out on it.
TIP: Comments aren't given as much weight/visibility as actual tweets or retweets in the Twitter algorithm, so retweeting it increases its visibility for everyone.
10. Evolve your strategy as you gain more followers
a. When you have <1,000 followers
Comment 20-40 times on large accounts each day.
Quote tweet content that you have a unique perspective on.
Seed your account with 5-10 original posts every day.
At this stage, interacting with other accounts is more important to drive eyeballs to your profile than posting original content to crickets.
b. When you have >1,000 followers
Comment 10-20 times on large accounts each day.
See your account with 10-20 posts every day.
Automate your content creation using Zlappo
At this stage, posting your own original content is more important, as you've already built a core following of people who're interested in your unique voice.
Pour conclure
Growing your Twitter account requires consistency.
You must do it every day.
Wake up? Send out some tweets.
Waiting in line/at the red light? Send out some tweets.
Commercial break on TV? Send out some tweets.
Taking a dump? SEND OUT SOME TWEETS.
About the Author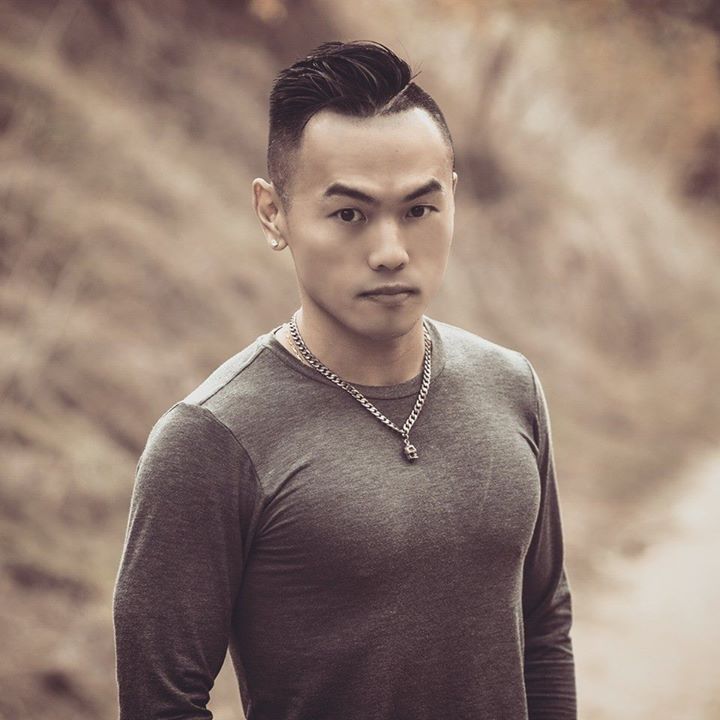 I'm Jay, founder of
Zlappo
, the
smartest
Twitter automation app in the market today to grow your audience rapidly like a Top 1% influencer. I'm a full-stack developer by background, and I love sharing my insights and observations on Twitter growth hacking and startup/business growth hacking in general. Let's learn and grow together! 🚀🚀🚀
Follow @therealjayber
Let's stay in touch, subscribe to my newsletter! 👇👇👇
Exclusive weekly email on: business musings, personal anecdotes, general self-improvement 💪
---